I had been dreaming for a long time about returning to my mother's motherland – Puerto Rico.
When I first started working with the Hello Seven Foundation, I thought – I am not tied to an office anymore, so why not?
Although I still have family on the island, most have moved to the US after being ravaged by natural and unnatural disasters. It had been more than 10 years since I last visited, and I had been hearing the call to come back but had all the excuses to justify postponing it.
Just seven months later, this dream came true. Hellooooooo seven.
As of today, it's been three weeks since I came back from the most magical experience in one of the most magical places on Earth.
ROI: The Millionaire Summit was Hello Seven's first conference of brilliant, successful, and supportive people, representing all identities and income levels (from pre-rich to H7+) in San Juan, PR. It was such a powerful week that I still get emotional about it in the best way.
At ROI, our name badges asked us for our name, our pronouns, and our "I". In other words: What is the return on my investment? Is it ideas? Inspiration? Independence? (Or something else that doesn't begin with "I"?)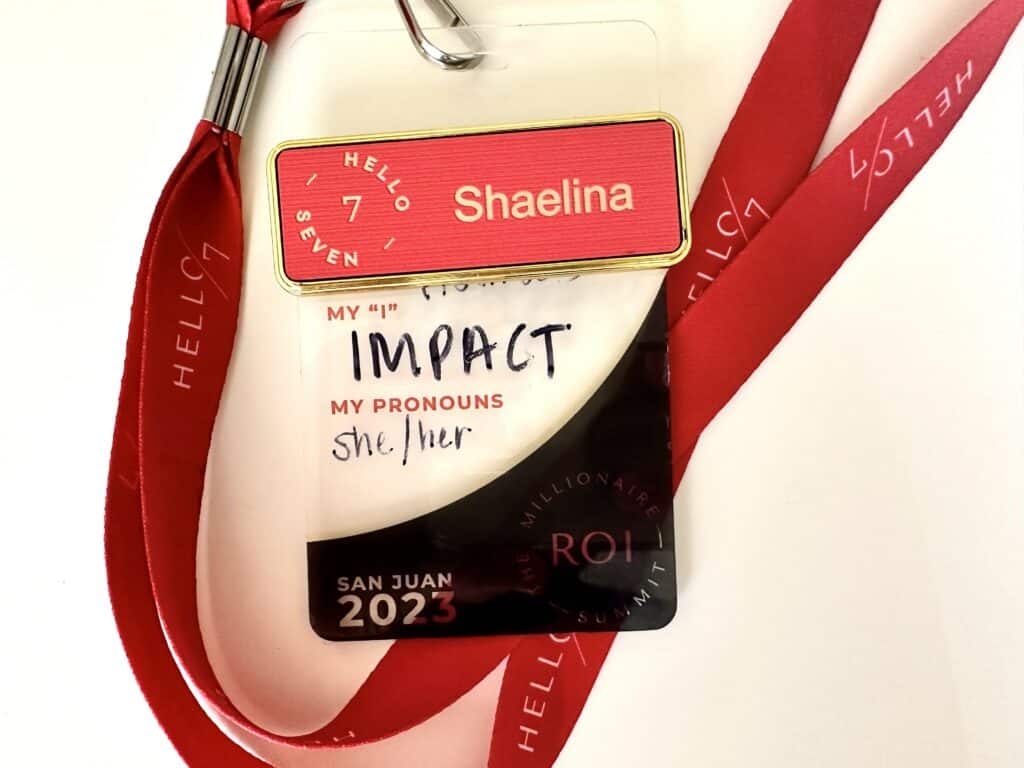 I immediately knew that my "I" is "impact."
The only work I ever want to do is work that brings more justice, liberation, and joy into the world, and that's the return on impact.
Hello Seven's mission is deeply aligned with that. Beyond the transformation for the conference attendees, the intention with ROI was to also have a positive impact on this beautiful island and its beautiful people, bringing more justice, liberation, and joy.
And I am so proud of how we showed up with love for our Puerto Rican neighbors. Puerto Rico has a severe shortage of birth providers and an abnormally high rate of premature births. Like many Black and Indigenous folks, Puerto Ricans have a history of being plagued by eugenicists with forced and coerced sterilization.
Every birth today is an act of resistance.
I worked with the ROI event planning team to craft an activity so our Shmillies (Hello Seven clients) could get in on the good vibes. During free time at the conference, we packed 20 bags filled with supplies for new moms, newborns, and preemies (breast pumps, baby carriers, bottles, and more) valued at $250 each. We donated them to Centro MAM, a holistic perinatal health center serving the underserved in Puerto Rico.
It was nothing short of amazing. Shmillies crafted handwritten messages of love and support for the moms receiving the bags, some even in Spanish, and thanked us for the opportunity to add to the impact. During the ROI closing ceremony, we invited Centro MAM's executive director, Vanessa Caldari, and clinical director, Paloma Del Mar Hernandez, to the stage to speak about their work and surprise them with a $50,000 donation, which I wrote about last week.
Afterward, Paloma shared with me how crucial nonprofits are in Puerto Rico. When the government doesn't take care of its people, the people step up to take care of each other. A lot of the rebuilding and resiliency work in PR is led by individuals and local nonprofits on the front lines.
This is why this new wave of Shmillionaires that Hello Seven is bringing to the world is so important.
When historically excluded folks get money, we make the world better.
We take care of ourselves and our people. We become better ancestors. We see injustices around us and we can do something about them, especially with the power of our connections to each other.
At ROI, I realized that most, if not all of the businesses represented in the room were designed so that when profit is generated, good things happen in the world around them. I met coaches of all kinds, grant writers, musicians, project managers, birth workers, artists, estheticians, and astrologers… all million-dollar businesses that creatively improve the lives of their clients.
No one in this group of historically excluded entrepreneurs is making money by paying unfair wages, stealing or destroying land, lying or manipulating the legal system, etc. Our people are not profiting off of the demise of another. Instead, we win together.
The way I see it – the old way of becoming a millionaire is officially over, and the Hello Seven way is here to stay.
With this energy, with this mindset, with this drive, we will all be millionaires.
With love for justice, liberation, and joy,
Every birth today is an act of revolution and resistance.
We have 40 applications for life-saving and life-changing birth support services, and I really need your help to fund them.
Click here to make an impact on a Black birthing person in need right now.